Welcome to the Official Rake, IA website!
Rake Iowa is a town of just over 200 people.
Its located in northern Iowa, right on the Minnesota border.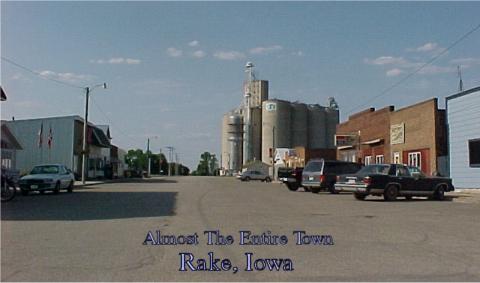 (Above is a picture of Main Street Rake Iowa)
The Elevation of Rake, IA is 1150 feet.
Winnebago County.
Land area is approximately 1.0 square miles.
Population (year 2000): 227, Est. population in July 2004: 215 (-5.3% change)
Males: 114 (50.2%), Females: 113 (49.8%)
Nearest cities:
Buffalo Center, IA (7 miles)
Frost, MN (7.1 miles)
Bricelyn, MN (9.1 miles)
Elmore, MN (11.5 miles)
Thompson, IA (12.8 miles)
Lakota, IA (14.1 miles)
Kiester, MN (14.8 miles)
Blue Earth, MN (16.4 miles)
RAKE PUBLIC LIBRARY
5,635 books; 203 audio materials; 15 serial subscriptions
We have Local News for Rake Iowa.
A listing of businesses in Rake Iowa.
History & events of Rake Iowa.
We also have a active community message board.
Enjoy!
Thompson Courier and Rake Register


Published weekly each Thursday by the


Thompson Courier and Rake Register

.

Subscription payments are sent to:


Thompson Courier and Rake Register


PO Box 318 Thompson, IA 50478
Phone: 641-584-2770

Subscription Pricing:
In Winnebego & adjoining Counties $23.00 per year
All other addresses $28.00 per year
Prices are subject to change at any time

Email:
shari@rakeiowa.com
Thank you for visiting!

Qmemo is a great place to leave messages to people you like, hate, or perfect
for runaways to leave annonymous messages to people so they know they are ok.
Look up your name, city & spelled out state to see if YOU have a message.
RakeIowa.com © 2006, 2007