Welcome to the Official Rake, IA website!
Rake Iowa is a town of just over 200 people.
Its located in northern Iowa, right on the Minnesota border.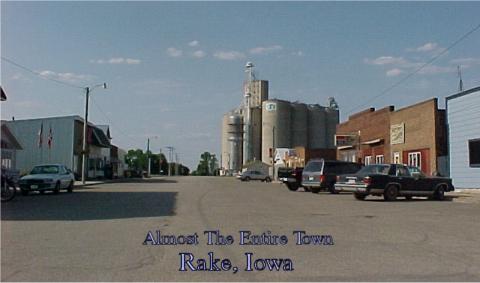 (Above is a picture of Main Street Rake Iowa)
The Elevation of Rake, IA is 1150 feet.
Winnebago County.
Land area is approximately 1.0 square miles.
Population (year 2000): 227, Est. population in July 2004: 215 (-5.3% change)
Males: 114 (50.2%), Females: 113 (49.8%)
Nearest cities:
Buffalo Center, IA (7 miles)
Frost, MN (7.1 miles)
Bricelyn, MN (9.1 miles)
Elmore, MN (11.5 miles)
Thompson, IA (12.8 miles)
Lakota, IA (14.1 miles)
Kiester, MN (14.8 miles)
Blue Earth, MN (16.4 miles)
RAKE PUBLIC LIBRARY
5,635 books; 203 audio materials; 15 serial subscriptions
We have Local News for Rake Iowa.
A listing of businesses in Rake Iowa.
History & events of Rake Iowa.
We also have a active community message board.
Enjoy!
Email:
shari@rakeiowa.com
Thank you for visiting!
RakeIowa.com © 2006, 2007